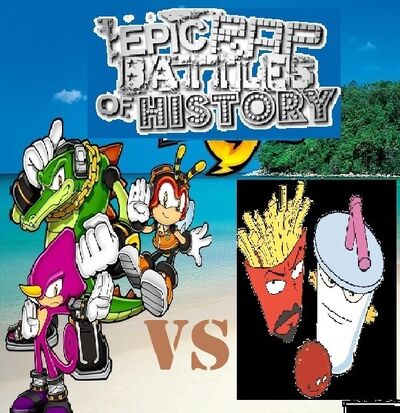 written by KennetH5
http://www.youtube.com/kennethh5
beat produced by Allrounda Productions
http://www.youtube.com/watch?v=ykA9vijD5G8
Chris Carbery as Master Shake, Frylock, Meatwad,
Espio, Charmy, & Vector
Lyrics:
EPIC RAP BATTLES OF HISTORY

AQUA TEEN HUNGER FORCE

VS

TEAM CHAOTIX

BEGIN

Meatwad: Were battling against Sonic's team because were going to win

They should put theirself back in the bin
Frylock: You fuckers dont know Sonic, but you should die

We were the best of the best, so dont lie
Master Shake: You are not better, our show was started 14 years ago

Now that we are the best, you guys are now my hoe
Frylock: You think we should defeat them
Meatwad: Yes we should dude

When we tell Carl, you guys are so screwed
Vector: Are you kidding, this is who are we battling agents
Espio: A milkshake, a bag of french fries, meat ball as a fence
Charmy: We were on sonics Video Game because were cool

You guys are awesome, HA APRIL FOOLS!
Vector: You guys are food, so you should eat yourselves

After that, we will make you all as elves
Espio: You guys should live in a barn, with all cows
Charmy: Here take this punch buggy, KAPOW
Meatwad: SHUT UP, or I will kill you with this freaking gun

You better fucking hide because were having so fun
Master Shake: Our show was started since the year 2000, y'know!
Frylock: And guess what, you 3 should NEVER EVER be heroes
Vector: You survived my storm, but who the heck are you
Charmy: I think were battling against our favorite awesome food
Espio: THIS BATTLE IS OVER, because you are done
You guys should die
Charmy: Because we are having fun
WHO WON?

WHO'S NEXT?

YOU DECIDE!

EPIC RAP! *AQUA TEENS!* BATTLES OF HISTORY!!!
Ad blocker interference detected!
Wikia is a free-to-use site that makes money from advertising. We have a modified experience for viewers using ad blockers

Wikia is not accessible if you've made further modifications. Remove the custom ad blocker rule(s) and the page will load as expected.